23
05
2012
Wait, you thought this was just a blog about cool Time Attack and road race cars? You are wrong dearest reader. What we have here is pure DETROIT muscle. Detroit is synonymous is with shitty sports teams and probably the most depressing city to live in. Aside from all of the positive things about Detroit, they did make some NASTY cars. One of my favorite chassis to date from Detroit is the Ford SN-95 aka Mustang chassis.
What I bring you here reader is a feature of a Chicago local who has one of the coolest street cars around..
This car is driven on the STREET and sees occasional track duty. As should EVERY car.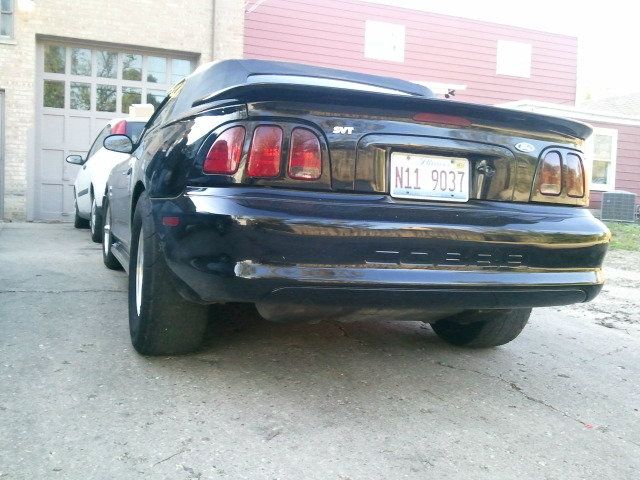 Me
Robbie
1. What made you choose this chassis?
I got a great deal and the car and to be honest I think it looks damn good. You don't see to many fast 
convertibles

. You just don't see to many. 
2. What are your goals with this car?
Make a 10.90 pass or better and call it a day. The car is very streetable and I want it to stay that way so no cage work will be done to the car in the future. 
3. Worst Mod you did?
Cant say there are any, I'm happy with all the products on the car other than the "JDM" intercooler couplers. 
4. Best Mod you did?
Boost and meth combined.
5. What do you do for a living?
I work THMotorsports.com and Autoplicity.com selling automotive parts and dealing with customer service related issues. 
6. What was your inspiration for getting into the automotive industry?
Its something I was introduced to as a child due to my brother so I guess I was never inspired to do it, I just followed what I was introduced to and stuck with it.
7. It is obvious that you are in love with your Cobra. Have you ever contemplated making love to it?
A few times but I keep the car very clean and making love to it will just leave stains everywhere which wont be acceptable. 
8. As you already know, I am definitely a TOP DOWN type of guy..what do you prefer? Top up/down? Depends on the weather really, as you saw im not a HUGE fan of top down but when its hot it helps since the car has no AC. The problem is when its to hot outside it makes it even worse having the top down.
9. How long do you plan on keeping the Cobra?
If you had to replace it, what would you buy? Car wont be around to long considering I already have a Notchback that has been in the process of being built for over 6 yeas so once this is gone I will focus on that car and move onto a Turbo LS powered car. Thinking about a LS2 or 3 in a FD Chassis with a decent size 
turbo

 or blower on it. 
10. Give me 4 spots and the hit. You down?!?
I'll give you 6 but I get the hit just to make things interesting. 
95 Cobra

5.0 .30 over 306CI of Furry

AFR 185 heads

Crower Springs and retainers

Hardened Push rods

Scorpion 1.7 Rockers

Scorpion Girdle

Trick Flow upper and Lower intake Manifold

90MM Billet TB

Pmas MAF

MSD 6AlL MSD Coil MSD Billet Distributor

Anderson Blower Cam

Probe Blower Pistons

Eagle H beam rods

Knife Edged crank blue printed and polished

Moroso Oil Pan

P600B Procharger

14PSI custom pulley

Procharged intercooler

Snow Performance stage 2 meth kit

C4 trans 4500 converter

TIC Deep aluminum Pan (Case Fill)

Aluminum Drive Shaft

B&M Shifter

Balanced Flexplate

4.10 Ford Racing gear

Full Race craft suspension

UPR Frame Connectors

UPS Upper and Lower control arm reinforcements

Granatelli Adjustable control arms

Tubular A Arms

Aem Wide band

Autometer Boost gauge

Autometer Oil Prossure gauge

Sct tuner with a custom chip (3 tunes 93oct, 110oct and 110 and meth)

On 14 PSI car made 546WHP on 110

On 10PSI Care made 498WHP on 93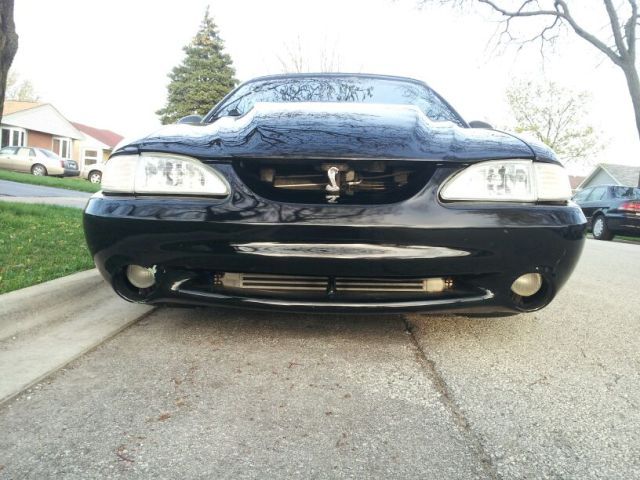 Check out that Auto Trans!
The Heart of the COBRA
Just a lil' V8….
And my favorite pic…too bad it's not TOP DOWN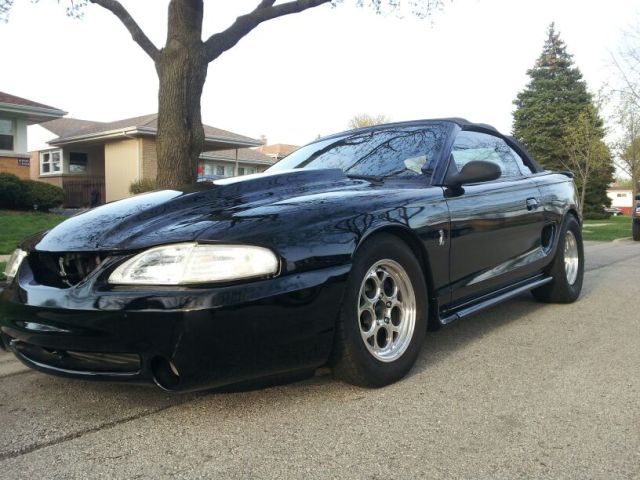 /FIN
Comments :
Leave a Comment »
Tags:
Autoplicity
,
Cobra
,
Convertible
,
LOL
,
Munchkin
,
Robbie
,
SN95
,
TH Motorsports
Categories :
Features & Interviews